After a lackluster showing in the opening three games of the Samsung NBA Summer League, the Los Angeles Clippers will begin their quest to take home to summer League championship.
Placed as the 20th seed, the Clippers' round 1 matchup will be a rematch against the 13th seed Miami Heat, the team who provided the Clippers their lone win so far in Summer League.
In the first matchup against the Miami Heat, Delonte West, Lorenzo Brown, and Amath M'Baye put on a clinic, scoring 61 of the teams 91 points
In the process, they managed to keep Miami's first-round selection Shabazz Napier at bay, allowing him 8 points on 2-of-8 shooting along with 2 steals and 2 turnovers. Napier also managed to post a team-low -21 plus-minus. It was reserve forwards Tyler Honeycutt and Scott Suggs who carried the Heat's offense, scoring a combined 27 points on 9-of-18 shooting.
The health of James Ennis, Miami's recent signee, may be the deciding factor in this matchup. In the two teams first matchup, James played only in the first half, sitting out the second due to an groin injury. With Ennis on the floor, it takes pressure off the surrounding four players to score points, focusing on other facets of the game.
Unlike the previous three games, if the Clippers find themselves at a loss to the Heat, they'll be eliminated from the championship bracket, instead finding themselves in the 'Consolidation Round' as seen on the right seed of the tournament bracket image.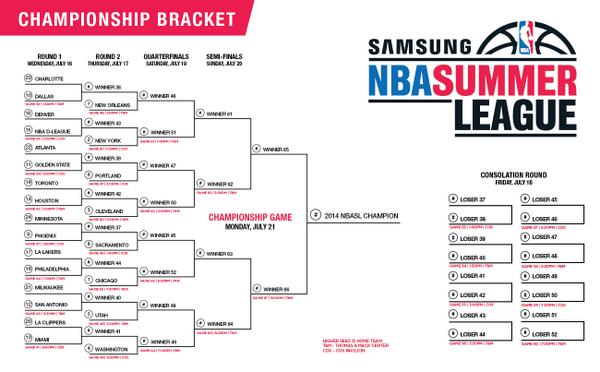 The game takes place at 8:00 PM ET (5:00 PM PT) and will be available for viewing on NBA TV.
Tags: Amath M'Baye Delonte West Los Angeles Clippers NBA Summer League